With less than four weeks to bid 2021 goodbye, Burna Boy has emerged as the most streamed Nigerian artist on Boomplay of the year 2021.
According to the stats made available by the Boomplay Editorial team tagged 'Boomplay Artiste Recap 2021', the Want It All crooner emerged as the most streamed Nigerian artist on the reputable African-focused music streaming platform in 2021.
Burna Boy emerged tops with over 85m streams, 5.25m streams and a staggering 4.3m stream hours.
The African Giant's streaming numbers almost doubled that of Davido, who has 49.6m streams to his name on Boomplay at the time of publishing this report.
The 'Fem' crooner surprisingly had 3.7m listeners and 2.47m stream hours on the Boomplay platform despite commanding over 20m followers on Instagram compared to Burna Boy's a paltry 8.3m followers.
Meanwhile, Burna Boy's streaming stats doesn't conjure up much surprise as the superstar could look back to 2021 as his most successful year so far as a musician. The Spaceship Entertainment artist rose from the scratch to win the Best Global Music Album award for his album 'Twice as Tall' during the 63rd Annual Grammys, which took place in Los Angeles, California, on 14 March, 2021. 
It was an unprecedented feat set by the 'Ye' crooner as he emerged the first Nigerian solo artist to clinch the most prestigious award.
Davido and Wizkid – who has achieved more success musically on Boomplay in 2021?
Well, relying on the Boomplay Editorial team recap stats, Wizkid surprisingly beats Davido to his game in 2021.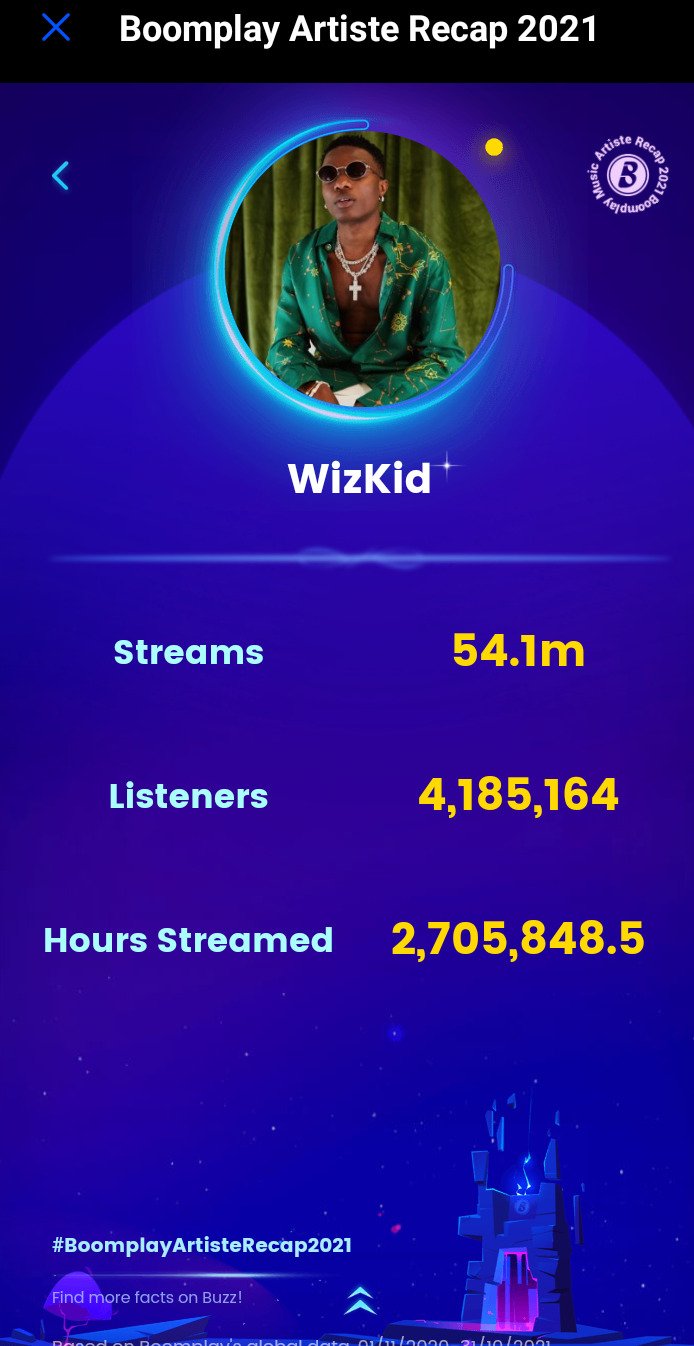 Recall that Davido emerged as the most popular artist of 2020 in our previous research analyzing the search popularity of both artists in 2020. We relied on the Google Trend statistics for the purpose of that analysis.
However, as captured by the 'Boomplay Artiste Recap 2021', the Essence crooner amassed 5m million streams more than Davido and garnered about 1m more listeners.
Unlike Davido who achieved 2.4m stream hours on Boomplay, Wizkid 2.7m stream hours on the platform.
Recommended Music Downloads
Meanwhile, enjoy our expertly curated Afropop sounds on Spotify. The playlist consists of top songs from Burna Boy,  Fireboy DML, Joeboy and breakout artists such as Buju, Gabzy, Flash, T.D.B Elere, etc.
Feel free to like and share playlist with friends!