Chelsea have turned their swag on with the team now blistering through their Premier League games with ease. 
After 8 matches, the North London side occupy the 5th spot on the 2020/21 EPL table, just three points behind league toppers, Leicester City, thanks to back-to-back wins against Burnley and Sheffield United. 
Edouard Mendy, signed from Rennes, has been instrumental to the Blues dominance in recent weeks. The Senegalese goalkeeper conceded only one goal in the last games across all competitions. 
Meanwhile, Hakim Ziyech and James Reece are both key figures in Chelsea's resurgence. Combining the Moroccan with Reece James on the right side has been a joy to watch.
The stars combined well in recent wins over Burnley, Rennes and Sheffield United. With James not shy to overlap, freeing up Ziyech to cut into the 18-yard area, the pair are a handful of threats to the opposition defence. Defenders find it problematic to keep track of what both players intend to do.
Ziyech is absolutely flying and Lampard's best laid plan for the Morocco international to work in tandem with right-back Reece James has proved a masterstroke.
'That was part of my thinking when Hakim Ziyech came to the club, the balance of the sides of the pitch which is very important for us,' Lampard said ahead of Saturday's 4-1 win over Sheffield United.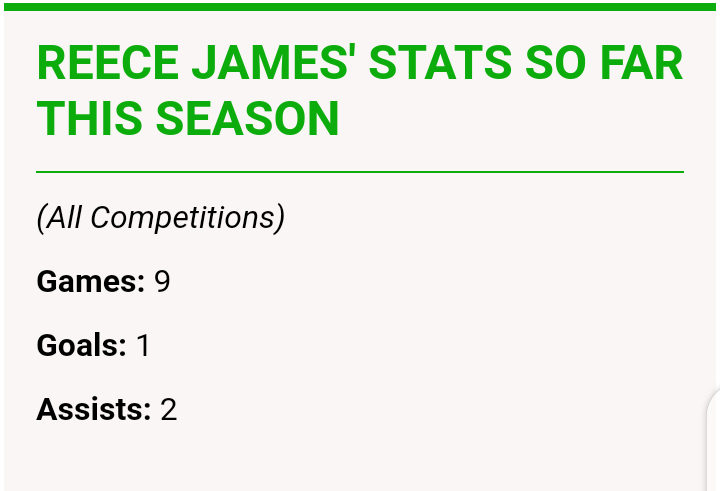 'We knew Reece's quality last year in terms of crossing. And when you think you can have a winger in front of him that can offer different angles and combinations on that side to put ball into the box, then I think it can be a big strength of ours.'
In the last four games, Chelsea scored 14 goals in the Champions League and the EPL. While Ziyech has scored 2 goals and laid on 3 more, James scored 1 and assisted 2 in nine games so far.