Real Madrid head coach, Zinedine Zidane, has reacted to the widespread report that Karim Benzema asked Ferland Mandy not to pass the ball to Vunicius Junior in a 2-2 draw with Borussia Moenchengladbach.
Cameras in the tunnel picked up a conversation in French between Benzema and Ferland Mendy, who were reportedly talking about Vinicius.
However, Zidane insists "it's good these kind of things happen" allaying fears of dressing room unrest with the Spanish giants, Real Madrid.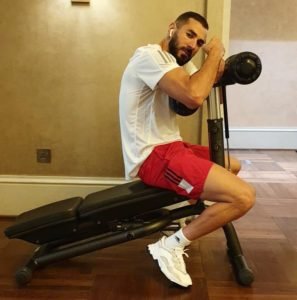 "You say a lot of things on the pitch, but it always stays there," Zidane said, confirming that Vinicius Junior and Benzema had buried the hatchet at training on Thursday.
"It's good that these kind of things happen, because it means we're alive and in the moment.
"They spoke and that's that. This kind of thing happens all the time on the pitch, things get heated. You say things about yourself, others and even me."
"In a conversation spoken in French, Benzema told Mendy: 'Don't play with him. On my mother's life, he [Vinicius] is playing against us. 
'He [Vinicius] does not do anything useful,' with the left back replying: 'When he becomes scared, he loses what makes him great.'
Vinicius has since been linked with a swap deal alongside Isco for Paulo Dybala from Juventus.