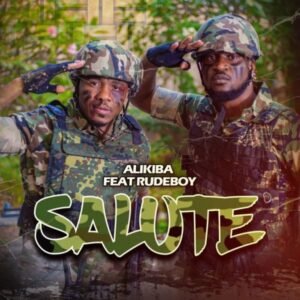 Alikiba Ft RudeBoy – Alikiba is not just a talented artist, but his musical repertoire encompasses different genres – a unique blend of afro-beats and incorporating a variety of other musical genres such as hip-hop.
With the prestige of having collaborated with singers R. Kelly and 2Face Idibia, Alikiba worked out another magical tune featuring RudeBoy and titled Salute.
Salute is a song with incredible vocals, a key that definitely will tickle your listening fancy. With Alikiba Ft RudeBoy on this song makes it an overdose rhyme and melody.
Listen on Boomplay 😉
Alikiba Ft RudeBoy – Salute Lyrics
You got baby face

Your dimples and eyes

Am lost in your world

Oh yeah yeah yeah yeah

The test was called a test

But you've been hanging out with me all along

Oh yeah yeah

When I got tired of ndo stamina

Comfort even for trouble yeah

That time I had none

And we enjoy with you

Pray to God Inshallah Amen

Avehe vijizabina yeah

Paris tukaspend the night

Oh baby you deserve it all

Now promise me no one knows tommorrow

You got me call me sweet oh

I salute eh, salute eeh

Salute eeh, salute eeh

You don't give me mami (Salute)

You are still with me (Salute)

I salute eh, salute eeh

Salute eeh, salute eeh

You don't give me mami (Salute)

You are still with me (Salute)

My darling the only one I need is on my side

And I guess you know I am so exited

Girl am on my knees don't break my heart

Don't break it oh yeah yeah yeah

If I do hard work I get stamina

Coz back then I was a hustler

This girl is personal

No one gonna break you

Pray to God Inshallah Amen

Avehe vijizabina yeah

Paris tukaspend the night

Oh baby you deserve it all

Now promise me no one knows tommorrow

You got me call me your sweet eh

I salute eh, salute eeh

Salute eeh, salute eeh

You don't give me mami (Salute)

You are still with me (Salute)

I salute eh, salute eeh

Salute eeh, salute eeh

You don't give me mami (Salute)

You are still with me (I Salute)

When I got tired of ndo stamina

Comfort even for trouble yeah

That time I had none

And we enjoy with you

Pray to God Inshallah Amen

Avehe vijizabina yeah

Paris tukaspend the night

Oh baby you deserve it all

Now promise me no one knows tommorrow

You got me call me sweet oh

I salute eh, salute eeh

Salute eeh, salute eeh

You don't give me mami (Salute)

You are still with me (Salute)

I salute eh, salute eeh

Salute eeh, salute eeh

You don't give me mami (Salute)

You are still with me (Salute)
Alikiba Ft RudeBoy – Salute Mp3 Download and Official Video
 Download Audio
READ ALSO 
Davido –  La La Ft CKay, Lyrics and Mp3 Download
G'Mycone: Forever lyrics and mp3 download
Download MP3: Philz Bee – All she Needs
Sage Ekundayomi: Days of Pentecost (Lyrics and Mp3 Download)
Jimi Afro – Yoyo Gbe Lyrics and Mp3 Download