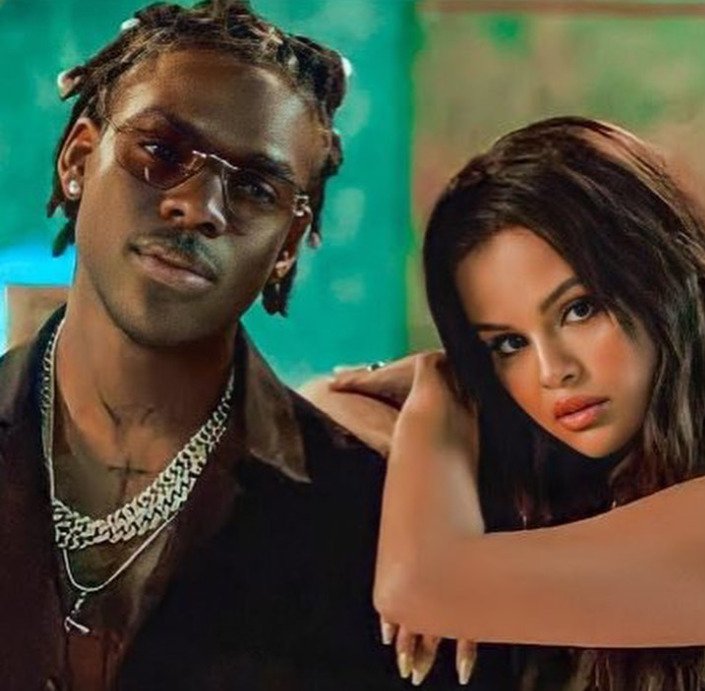 Selena Gomez Expresses Gratitude to Rema – American singer and actress Selena Gomez recently took to social media to express her heartfelt gratitude to Nigerian singer Rema for the opportunity to feature in his viral hit, "Calm Down."
In an Instagram post, Selena shared two photos of herself and Rema from the song's collaboration, and she thanked him for forever changing her life.
Selena's caption read, "This man has changed my life forever. Rema, thank you for choosing me to be a part of one of the biggest songs in the world. Love you forever." The message conveyed her appreciation for being involved in a project that had a significant impact on her career.
The remix of "Calm Down," featuring Selena Gomez, has now become the most streamed Afrobeats music of all time on Spotify, as confirmed by an infographic shared by the popular digital streaming platform. This accomplishment highlights the global success and immense popularity of the song, solidifying Rema's status as a rising star in the music industry.
Rema, upon seeing Selena's post, reciprocated the affection by expressing his love for her in his comment. He wrote, "Love you too Queen ❤️," showcasing the mutual admiration and respect between the two talented artists.
The collaboration between Selena Gomez and Rema brought together their unique musical styles, blending American pop and Nigerian Afrobeats. The fusion of their voices and talents resonated with audiences worldwide, contributing to the unprecedented success of "Calm Down" and further promoting the global appeal of Afrobeats music.
Fans and music enthusiasts from different corners of the world flooded social media with positive reactions, praising the duo for their remarkable collaboration and expressing their excitement for future projects.
The impact of this collaboration goes beyond just the music industry, as it symbolizes the power of cultural exchange and the breaking down of barriers between artists from different backgrounds. Selena Gomez and Rema's collaboration exemplifies the importance of embracing diversity and celebrating the richness of various music genres.
As fans eagerly await further developments from both artists, it is clear that the collaboration between Selena Gomez and Rema has left an indelible mark on the music industry. Their joint effort serves as a testament to the transformative power of music and the potential it holds to unite people from different parts of the world.
With Selena Gomez expressing her gratitude to Rema for the life-changing opportunity, it is evident that this collaboration has not only been musically significant but has also fostered a genuine connection between the two artists.
The impact of "Calm Down" will continue to resonate, leaving a lasting legacy in the realm of global music collaborations, it is no doubt Selena Gomez expresses gratitude to Rema for the incredible opportunity.
READ ALSO
Rema reconciles with Dj Neptune –'We are good' 
Six Best Strategies of Music Promotion in Nigeria