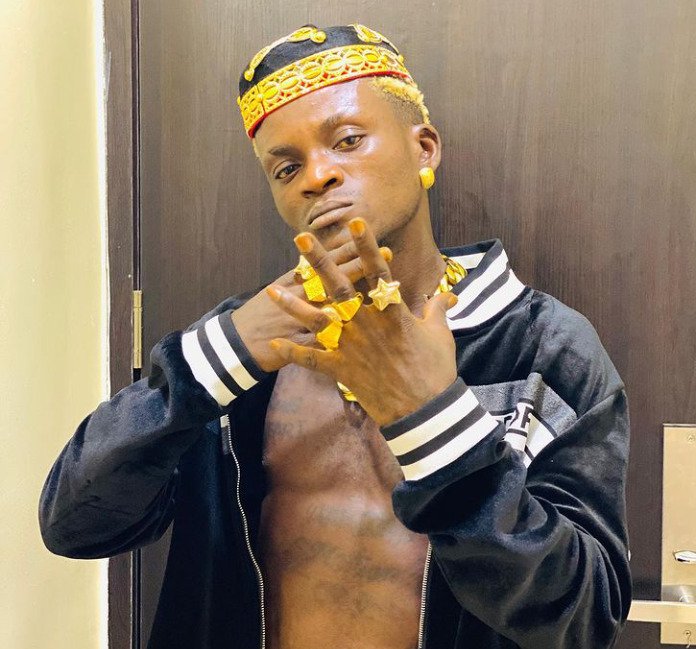 Portable – Ogo Forever MP3 Download – Portable' surprise release of his new single Ogo Forever makes sense when looking at how the street singer broke out in December, 2021.
After coming out of nowhere, dominating the news and garnering massive streams across Digital Streaming Platforms, his biggest move so far  would be releasing Ogo Forever.
Ogo Forever, a single that is filled with some scintillating vibes and delivered mostly in Nigerian Yoruba language, is a follow-up to ZaZoo Zehh, one sound many describe as a 'magical' debut single.
After the hype and controversies surrounding Portable's debut release, especially with the handling of the release by his management team, Ogo Forever by Portable hints at what could be in store for his fans – a diverse musician capable of creating magic anytime. 
This is a sound which essentially inspires us to be top of our game. I love the vibe of this one as it is the ginger needed for the new year.
Download MP3 – Ogo Forever by Portable
 Download Audio
Download Recommended Songs
Philz Bee – Ritual Money Ft Ikpa Udo and Zillions MP3 Download
Ogo Forever by Portable Lyrics
Intro] ZaZoo
Aloyinloun re oh (Aloyinloun re oh)
Dr Zehh oh (Dr Zehh oh)
Iyanu ti Zehh oh
B.Y Ogbá producer oh
Emi ni were olorin, Idamu adugbo
(Zehh kan to Zehh ri ę oh)
[Verse 1] I believe in God my phone and sub
Any disappointment is a blessing oh
Dr Zehh oh
Iyanu ti Zehh
Won le mi bø, Won le mi bø
Mosare wonu mosalasi
Moyabara mo wø søøsi oh
Kolorun gbe mi ni ja oh
Iya to ję baba ko ma jømø (Ko ma jømø oh)
Oun lo difa fømø ika
To fi lø join rich Gang oh (Lø rich gang oh) [Chorus] Jiji ti mo ji
Ire lo bami ji
Jiji ti mo ji
Ayo lo bami ji
Aje ko wa mi ri
Kan ma fowo pe mi
Ęwoo
Oju lari, Øre o de nu
Moya bøsi køro oh, Mo bølørun mi sørø
Wipe koshey temi nire oh
Oh oh oh oh oh
[Verse 2] Yeee
Baba mimø
Mimø mimø mimø oh oh
Jęwø agbara rę ninu aye omo re oh
Oluwa Iyanu
Oba ti n gbenu ola sogo
Waa wo la iyanu, lasiko iyanu, nitori iyanu
Ko wa sø mi di iyanu
Ila yi oh oh oh[Chorus] Jiji ti mo ji
Ire lo bami ji
Jiji ti mo ji
Ayo lo bami ji
Aje ko wa mi ri
Kan ma fowo pe mi
Ęwoo
Oju lari, Øre o de nu[Verse 2] (?)
To ba jępe a o kin ku laye oh
A o baa ba Muhammad
Mimo Mimo oh fun oba oluwa
Oba tenikan o le paa
Oba tenikan o le ri oh
Awon kan wowo December oh
Sugbon emi wowo forever oh
Lojojumø ni mo ma n gbadura
Ki n ri ba ti shey oh
I believe in God my phone and sub
Any disappointment is a blessing oh
(Oluwa ma shey ję ki omo araye ri mi tan)
Won le mi bø, Won le mi bø
Mosare wonu mosalasi
Moyabara mo wø søøsi oh
Kolorun gbe mi ni ja oh
Iya to ję baba ko ma jømø
Oun lo difa fømø ika
To fi lø join rich Gang oh
[Outro] Shey mi lologo agbaye oh
Ologo forever oh
Dr Zehh oh
Nilu awon osu mo ma gbe ę de bę oh
Nibi tan ti n bo cardi oh
Aloyinloun re
Omolalomi agorin oh
Dem call mi Portable baby oh
Son of Shakushaku oh
Opolo ti poju
Gangstar Naija
International Promoter
Opolo ti poju Kogbagidi
African Mafian Awoo
ZaZoo, It's doctor zehh oh
Zehh Zehh