The family is one important unit of the society and every individual belongs to a respective family and don't take their families for granted.
Despite having various family, some people are proud and happy with the kind of family background they have or the relationship that exist amongst them while some don't have much to say about their family as they don't have any cordial relationship with one another.
Celebrating her family, Nollywood actress Iyabo OjoThe Resemblance Is Uncanny- Fans Reacts As Iyabo Ojo Shares Photos Of Her Lookalike Mum On Her Birthday is known for always showcasing her family at every point in time.
Recently, the actress shared some stunning photos of her family members on her verified Instagram handle with them looking gorgeous in their outfits.
She shared three generational photos where she showcased her mother and her daughter. Others included her mother and her two teenage kids, Festus and Priscilla.
The family wore black outfits for the shoot which made their outfits well coordinated. Iyabo's mother also stood out in the photo as she is spotted wearing a white traditional attire with a wine burgundy hear gear.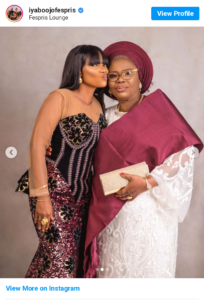 The actress reveals in one of the caption of the photo that her family is her world best.
In one of the group family photos, the actress expressed in her caption that her family is her world best.