After the birth of a child, the joys of parenthood is seeing the child grow. Some fathers are always keen in the daily growth of their children which brings much excitement when they see them display funny antics.
Just recently, Nollywood actor, Emeka Ike, took to his Instagram page to show off his cute little daughter as he gushed over her.
The actor was amazed and proud that his daughter could walk unaided and at just eight months old. He shared a video of his little girl walking beside him on a pavement on his page.
The movie star revealed further that he never knew babies could walk at eight months and further went on to call his daughter, Oluchi a super special child.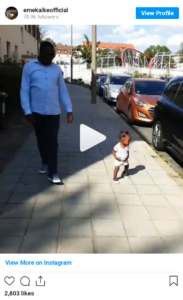 In his words: "I didn't know that babies can walk @ 8 months My Oluchi is super special ❤#daddyduties"