The issue of rape has become so disturbing because we wake up with a rape case on daily basis.
It's either a father with his daughter or a stranger forcefully having carnal knowledge of a minor and various other cases.
Many Nigerians have risen up to condemn this act and has called out the government across all social media platforms to ensure that justice is done while perpetrators are properly dealt with but sadly not many people has gotten justice so far.
According to the actress, the more the crime of rape and injustice is being fought against, it gets worse.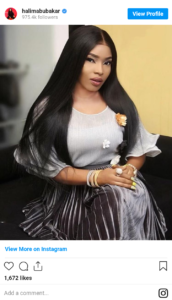 Halima went on to urge her fans and followers to protect their environment. She also encouraged people to protect other people's kids and not act unconcerned towards others.
"Protect other people's kids. Don't say what's my own. So many love to say that," she wrote.
The movie star also advised that the Privates of a raise should be cut off because they are a menace to the society. She therefore urged the society to say no to rape.