Nigerians expressed joy and excitement as the government announced that international flights would resume operations soon. Nigerians were thrilled and happy that things were returning back to normal.
However, it came as a bombshell as Nollywood actress Eriata Ese had a contrary view especially to those who do not have enough money in their bank accounts, let alone, be able to travel outside the country
Ese asked why they were happy about the resumption of international flights, knowing that their account balances would not be able to take them outside the country.
"People with less than N100k in their acc, why are they happy that international flights will soon start working? Where are you going with your life savings?" she asked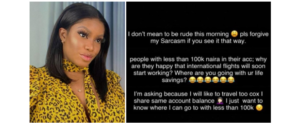 She also noted that she also have the same sum of money in her account and would also love to travel and don't know where to go with such an amount of money.