The Nigerian entertainment industry seems to be be the rave of the moment as celebrities have been able to acquire luxury properties of their choice.
It's a good thing to reward ones self after years of hard work and struggles. Compensate yourself for all the works you have done in life.
Just recently, Nollywood actress, Didi Ekanem, gifted herself a brand new SUV to compensate her hardwork.
The actress took to her social media page to show off her new ride and revealed that it was an early birthday gift for her.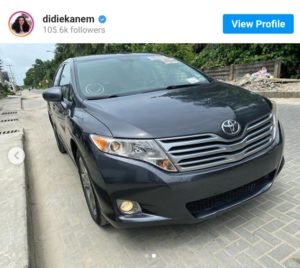 Didi recounted her years of hard work as she thanked God for his blessings, she encouraged women who thinks they cant make it without the help of a man.
She wrote: "You can get everything you want if you work hard for it. Y'all have seen my journey with @shop_odot since 2017 till date. the past 4 years has been an intense journey of hard work, sacrifices, savings, planning, pressure, sleepless night and all. Today, I stand to say that it is paying off. Without taking away the glory from God cos He alone can make this possible. And to any woman who ever thinks that achievement is impossible without a man, I say, it is possible. EARLY BIRTHDAY GIFT TO MYSELF."