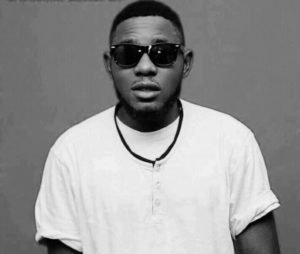 Off the Street Music caught up with Melody Uweh, an Afro-beat sensation from Southern Nigerian. In an interview with Uweh, the 'Successful' crooner bared his mind about his music, the competition in the Nigerian music industry and his next moves. Read the excerpt of the interview below:
Q: Melody Uweh, welcome to Off the Street Music. Kindly introduce yourself to those who may not know you. 
Thank you, man.
I'm Michael Uweh, professionally known as Melody Uweh. I hail from Akwa Ibom State and music is all I do.
I love Afrobeat which is more of the Naija sound but I'm an artiste who would be comfortable doing other genres (of music). 
Basically, when I say music is all do, you should know I'm into music full-time. Not just about singing. Yeah. I'm into music production. I play the piano too. So, I live and breathe music. 
Q: Your jam – Successful – is gaining massive airplays and streams online, how do you feel about this?
I must say I'm very elated with the vibes I'm getting after dropping 'Successful'. The jam was released on the 27th July, which was my birthday. It is available on all digital stores including iTunes, Spotify, Audiomack, Boomplay, etc. I can tell you it's been massive love from fans and DJs out there since its release. I just hope the love continues nonstop; the airplays and streams triple too. (Laughs) Yeah! That's what's up. 
Actually 'Successful' is not my debut single. 'Unek' was. But with 'Successful' it's been a different story especially after I migrated from Akwa Ibom State to Lagos in order to face the music business fully. I must say I am impressed with the waves about this jam so far while hoping for more. 
Q: Oh yeah! Oliver Twist. (Laughs). So, now that you're in Lagos, do you consider the opportunities in the industry brighter? How do intend to deal with the competition in the industry? 
Yes, of course. There are more opportunities in Lagos compared to anywhere else in Naija. The city is the centre of everything including the entertainment industry. The market is there for anyone to exploit. And one thing certain about Lagos is that the hustling around here would inspire you to do more. Meanwhile, that fact does not take away the competition in the industry. 
I'm pretty much convinced the Naija music industry is the most competitive creative industry in the world, today. There are many artistes out there doing Afrobeat music. There could be more than a million of us doing well to push our music; to gain attention. I put it succinctly – Naija music industry is the survival of the fittest. Only the strong survive.
Q: Would you say the competition in the industry has propelled Nigerian music to the global stage? How do you compare the industry to Ghanaian or South African music industries in the continent? 
Yes. The competition in the industry means every Nigerian artiste must strive to be better to make a breakthrough. This implies that the Nigerian music output is on another level in the world and in Africa in particular. 
The industry here can't be compared to none in Africa. With one hit, I would become a superstar in Ghana or South Africa. That's no disrespect to Ghanaians and/or South Africans but that's stating the fact. It tells of the difference between the Nigerian music industry and any other in Africa. It cannot be compared. 
Now 'Successful' is out, what are your plans going forward?
Make more music. That's all I do and all I wanna do right now. I'm bursting with energy and ready to push on full throttle. My immediate plan is to collaborate with top stars in the industry to do some hits. My team and I are working hard on that. We are talking to a few artistes at the moment. 
Which artiste(s) are you looking to work with? 
For now, that's one information I love to keep out of circulation. Let's get to work first. At the right time, we can confidently reveal the artistes we're working with. 
What's your final word to upcoming artistes out there? 
Keep pushing! Covid 19 can't stop us. Only you can stop yourself. Believe and do the right things, we go achieve.
And to my fans out there, thank you for streaming my jam. If you are yet to  stream it, thank you very much as I believe you would stream it after this time out. One love. 
Stream 'Successful' here.