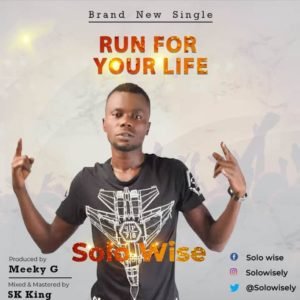 Up and coming Nigerian artiste, Wisdom William, professionally known as Solo Wise, is one star with exceptional creativity as far as the music game is concerned.
Having been born into a music family, Solo Wise has had the opportunity to be groomed and learn some ethics of singing from his mom, who was a chorister with a Church choir.
"I come from a family of music as my mum was a chorister from a local Church which I got my inspiration & talent from," Solo Wise said in a brief interview with Off the Street Music.
Hence, it is no surprise that the Akwa Ibom State born star is a phenomenal vocalist. His confidence behind the mic is outstanding.
'Run for your Life' is a testament to his vocal ingenuity. The Afropop and RnB singer leaves you in clutches of amusement with his vocal delivery on this track.
Read: Why I attempted suicide multiple times – Ubi Franklin
Aside from his vocal ingenuity, Solo Wise's 'Run for your Life' boost of intriguing lyrics. You would be thrilled to lyrics like:
Everyday I dey hustle
I dey pray to blow
See my life is so simple
Am a fine boy no pimple
Baby come to my room
Girl I won't touch your nip*le
Stream and Download Solo Wise – Run for your Life
 Download Audio