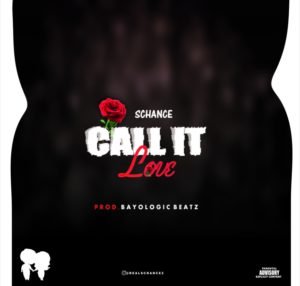 I was wondering what it takes to make good music and breakthrough in the Nigerian music industry until I listened to SChance – 'Call it Love'. Immense, beautiful and superb vocal skill laced with good lyrics makes this sound extremely exciting.
Released on the 3rd of June, 2020, this music makes the cut of an intriguing sound. Though, I'm not surprised as SChance affirmed his motivation is basically good music.
"Good sounds and things I see around me" motivate me, SChance stated.
SChance, student Kwara State Polytechnic, has been in the game for a while now. With his official debut single 'Noise Maker' released in December, 2019, the Oyo State born artiste made a strong entrance into the Nigerian music industry without looking back.
Aziz Olasunkanmi Hammed, professionally known as SChance, has continued on the path of making good music. Call it Love lives up to that expectation.
'Call it Love' is indeed an extraordinary expression of love and we must give kudos to SChance for this masterpiece.
Listen to Call it Love on Audiomack
Download here
Also Read : Skarra announces the release of Jeje