Victor Chinonso Agbo, whose stage name is simply Victor Agbo, is a multi talented musical artiste that fuses a blend of pop, rock, hip-hop and afro genres in his musical works. 
Agbo hails from Enugu State. He was recently admitted to a postgraduate studies at the prestigious University of Nigeria, Nsukka, to pursue a Master of Science degree in Computer Science. The talented singer, who bagged his first degree from the same institution, spoke to us about his kind of music, his motivation and other issues. 
Asked to describe his kind of music, Agbo stated: "The music I make depends on my mood. Sometimes I make a Rock-like or Pop-like song, other times a Hip-Hop-like song and now for the first time, I've made an Afro song. 
"One common thing about these songs," Agbo continues "is the strong message they all convey. My message can be about love, and it can be inspirational or spiritual. Sometimes I use my music for advocacy, talking about changing things in our society. But mostly I'm all about morality and spirituality."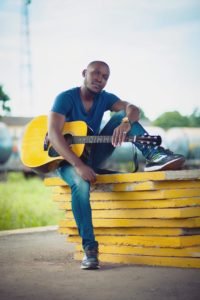 Agbo says he's inspired by everything – from a passive action to an enduring legacy. According to him "Life, death and everything in between" inspires him. 
"When I see a lover kissing his bride passionately with so much love in his eyes, I get inspired. When I lose someone close to me, I get inspired. When I witness the great works of God, when I see the government failing the society, when I see the manifestation of man's wickedness or listen to an amazing song or watch a beautiful movie; all these things inspire me", Agbo stated. 
The fast rising star's recent work 'Down the River' is already getting rave reviews on Audiomack. According to him, "the song was inspired by the fact that people are out of school due to the Coronavirus pandemic and we don't have the necessary structure or culture to implement e-learning." The single advocates, in strong terms, for the Nigerian government to sit up and do what's right. 
Listen to 'Down the River' on Audiomack
[audiomack src="https://audiomack.com/song/agbolives/down-the-river"]
Victor Agbo cuts across as a distinct vocalist with a finesse character that will endear him to music lovers across the nation. Meanwhile Agbo is not just a vocalist but is a guitarist – the acoustic guitar being his favourite. 
Agbo is inspired by the likes of Adekunle Gold, Simi, Falz, The Script Johnny Drille, Ed Sheeran, Chike, Coldplay, Jesus Culture, Nathaniel Bassey, Hillsong, Casting Crowns. 
Agbo is currently working on the video for 'Down the River'. You can connect with him on social media:
Facebook: facebook.com/Agbolives/
Twitter and Instagram: @Agbolives